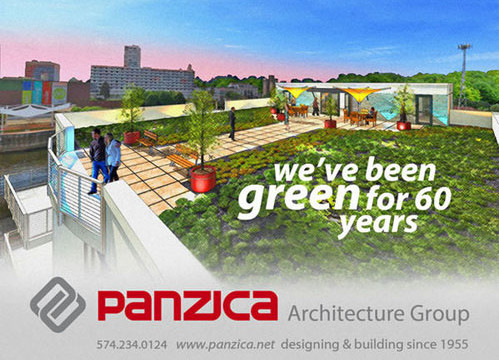 Recently Panzica was pleased to be among the sponsors of the successful 2014 Rain Barrel Ball, an elegant fundraising event created by our friends at Greening The Bend.  Our program ad is above this post.
According to their web site Greening The Bend seeks to bolster a renaissance in South Bend by promoting green spaces and human-friendly urban features that protect water and our river as a precious natural resource. This will result in social, economic and environmental benefits for the South Bend area.
Through their very well-received Rain Barrel Ball and other creative activities, this citizen group is seeking to raise private funds to install a sustainable green roof garden over The South Bend Museum of Art at Century Center. They are very close to accomplishing that goal!
Greening The Bend Executive Director Kathleen Petitjean and her husband Jonathan Burke lead a group of "grass roots visionaries" one might say, who literally seek to use those grass roots to control storm runoff and help to improve long-term water quality in the St. Joseph River watershed.
Part of their innovative fundraising effort is through the $1 per download sales of an original musical piece called Song of Sagwa Zibi which is the name that indigenous Potawatomis gave the river, coming from the legend of a mysterious visitor said to arrive on the river's shore.
World-premiered at this year's Ball and representing the flow and spirit of the river, this beautiful melody was composed by South Bend native Paul Kwiecinski featuring performances by Jodie Sleed, and Paul Duffy. It can be heard and downloaded here.
As local architects and builders who were leading with green design long before there even was LEED, we at Panzica applaud Greening The Bend's efforts and we're proud to be fellow travelers on the path to a more sustainable community. BRAVO Greening The Bend!!
http://www.panzica.net/wp-content/uploads/2014/08/Panzica-2014-Rainbarrel-Ball.jpg
375
499
Tom Panzica
http://panzica.net/wp-content/uploads/2013/05/Panzica_Logo_216x55.png
Tom Panzica
2014-08-25 18:17:59
2014-08-26 00:28:50
We Support Greening The Bend